Charcoal Chimney Starter
"They make life so easy!"
Charcoal Chimney Starter
The easiest way to light up charcoal with a charcoal chimney starter. Why not cheat and use a BBQ starter to get the perfect fire going.
Okay...so you looking to buy one, which one do you choose?

I have chosen some of the best starters for you to have a look through. Hope you find the one you looking for!!
Below our buyers guide we have a few great tips and guidelines on how to use them! (effectively & safely)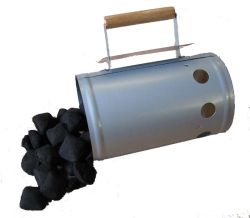 Lighting a barbecue can be difficult and time consuming. Using a chimney starter makes it oh so easy!
Using a BBQ starter probably is the easiest and most efficient way to get your charcoal going. Well that I know of...
So how does it work?
A chimney starter is a metal cylinder with a grate to hold the charcoal. The bottom grate holds the igniter (usually some newspaper).
Once lit it creates intense heat within the cylinder and quickly ignites the bottom charcoal. That heat then quickly moves its way upwards igniting all the charcoal.
Once all the charcoal is ignited you simply pour the charcoal into your barbecue and you are ready to start grilling.(couldn't be any safer)


"Weber 87886 Chimney Starter"
Features
• Durable aluminized steel construction
• Stay cool thermoplastic handle adds safety
• Extra large capacity, holds enough briquettes for a 22-1/2-inch kettle grill
• Greatly reduces the amount of time it takes for coals to get ready

Over View
Great product, we highly recommend this chimney starter. Seems to be the one most people are using!
For further information and to buy click on the picture above.



---
"Lodge Charcoal Chimney Starter"
Features
• Stands 12 inches high
• Crafted from heavy-gauge aluminized steel; wooden handle
• Heats coals in 12-15 minutes
• Eliminates the need to use lighter fluid
• Environmentally friendly and efficient way to barbecue

Over View
All round great product, two thumbs up from me. It comes with a one year warranty.
More information on this product and to buy click on the picture above.



---
"Lighting a Chimney Starter"

• Crumple a few pieces of newspaper and place them in the bottom grate.
(don't pack too tightly, need air spaces)
• Get the newspaper to burn for longer, spray it with cook & spray. (the oil burns before the paper)
• You can use substitutes to newspaper such as fire starters or lighter fluid. (newspaper is cheaper!)
• Fill the top portion of the chimney starter with charcoal. Do not over fill it, only fill few inches up to the brim.
• Light the newspaper or the substitute fire starters in different places. Soon you should start to see smoke coming from the chimney starter. (if you don't then re-light)
• Let the newspaper burn for approximately a minute or two and soon it will ignite the charcoal. (oh so easy)



---

Normally it takes anything from
ten to twenty minutes
for the flames to work its way upwards through the cylinder.
Just depends on wind conditions, amount of charcoal you have used and the type.
The charcoal is ready when you can see flames flickering at the top of the chimney starter.
Some of the top charcoal will start to appear ashy. Once you notice this you are ready to start grilling, simply pour charcoal into your BBQ. (grilling time)


---
"Chimney Starter - Barbeque Starter Tips"

• Use heat resistant gloves when handling the charcoal chimney starter.
(don't want to burn your hands)
• Do not place the chimney starter near any flammable materials such as a wooden deck. (makes sense)
• The chimney starter will remain hot long after the charcoal has been poured out of it. (watch out when picking it up)
• Never light a chimney starter directly on a concrete surface as this may leave a mark on the concrete. Rather place it on fire safe bricks. (you need air to flow out the bottom)
Great...now you know how to use a charcoal chimney starter! So...I guess you got no excuse for not lighting a fire properly.