Portable BBQ
"The Bon feu"
"Let's start with who we are!"
To put it into basic words,
we are the Spanish Representitives
for the Portable BBQ Bon Feu South Africa.

We provide an online
purchase facility for this grill
in Europe, Canada and America.

In addition to this we also offer
free information on other grills,
recipes and Barbecue products.
---
"Who are Bon Feu!"
The company is a General Engineering and Manufacturing factory located in the district of Johannesburg South Africa.
As a company, they specialize in metal pressings, Tool and Die Making, Turning and Milling of industrial metal products.
Bon Feu is their brand name for their new Luxury Charcoal Grill concept you now see in the pictures on this website.
This Portable BBQ went into full production in August 2009 which makes it a relatively young Tabletop Charcoal Grill.
Further products under the Bon Feu brand will include additional Barbecues and accessories such as -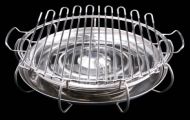 • Portable Gas Versions
• Roasters and Smokers
• Dome shaped lids
• Frying Pans
• Bon Feu cooking utensils


Keep you eye on our Blog for the release of these exciting new additions to the Brand.
---
"Now for the Grill!"
Bon Feu Premier
Portable Charcoal BBQ
Table Top & Camping

Good all rounder
"Mouth Watering Stuff!"
| | | |
| --- | --- | --- |
| Dimensions | 45cm Diameter | 18"inch Diameter |
| Cooking Area | 645cm Squared | 254" Square Inches |
| Net Weight | 5kg's | 11 lbs |
| Materials | Stainless Steel | - |
| Features | 3 Snug fitting parts | |
| | | |
| Box Size | 470 x 155 x 470mm's | 18 x 6 x 18" Inches |
| 1 Carton = 4 Boxes | 475 x 625 x 475mm's | 18.5 x 24.6 x 18.5" |
| Gross Weight / Carton | 20kg's | 44 lbs |
| Minimum Order Quantity | 650 units (Wholesale) | |
| Per 20" Container | 650 Boxes / Units | |
| | | |
| Recommended Retail Price | €138.00 EU | €138.00 EU |
---
"Let's look at different components of the Grill!"
---
"Easy to Carry!"
What does it
Include?

The Grill Grid

Fire Tray

Heat shield base


Nylon Carry Bag
______________


Easy fit together


450mm (18")
Diameter


Hand Crafted


What's the Application
of the grill?


Table Top

Camping

Outdoor Sport events


Small & Large area compatibility


Boating


Great for Holidays


Long Journeys
---
Dishwasher Friendly!
---
"To Sum it all up!"
The Bonfeu designers are keen Barbecue enthusiasts who take a lot of pride in their grilling.
They built the grill especially for the like minded grill enthusiast who just can't live without their grill.
High Quality, heavy duty Stainless Steel materials rather than the traditional satisfactory steal plated materials.
This Charcoal BBQ was built to last.
---
How to order
Easily!
The link below will take you to the checkout and order page where you may use your credit card with Paypal to purchase.
If you would like to chat with us on Skype -

warrenbonfeuspain
Between the hours of 11am to 7pm Central European time Monday to Friday.