Grilling Vegetables
"The Pros and Cons of BBQ Vegetables!"


Have you been grilling vegetables on your barbecue?
Here we have delicious easy to prepare recipes!

Vegetables turn out great off the barbecue when done right. They make a great tasting healthy side dish!!

---
On this page we've highlighted:
Different Vegetable Recipes
Barbecue Vegetable Tips
---

The best thing is no one will complain you are not grilling up healthy food! Make your barbecue Sundays tasty and good for you!
So...if you haven't been preparing vegetables on the grill before, now is your time to start!


---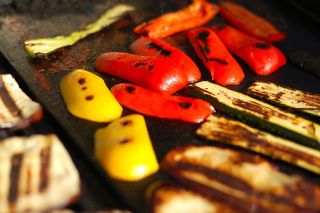 ---
Links to BBQ Vegetables
Tasty BBQ Vegetarian Recipes
Delicious recipes for tomatoes and potatoes!

Grilling Asparagus Recipes
Tasty BBQ asparagus right off your grill!

Grilling Corn On The Cob
Yummy corn recipes to get your hands on!

Vegetarian Grilling Recipes
Delicious recipes for BBQ cabbage, eggplant and onions!
---
Barbecuing Vegetables Tips
Keep a close eye when you are grilling, as vegetables aren't as forgiving as meat. (no black tomatoes please!)


Grill vegetables & fruits nice and slowly on a medium heat grill.


Always rinse under a cold running tap and pat dry with a paper towel.


Cut up your vegetables into consistent size pieces. This insures all the vegetables finish grilling at the same time.


Make sure your grill grid is clean and lightly greased with olive oil. (no sticking!)


Lightly drizzle olive oil over to flavour the vegetables and prevents them from sticking.


Wrapping up your vegetables in aluminum foil prevents it from burning and keeps it nice and moist.
Check out grilling vegetable tips for more great barbecue tips.
Be sure to this page often as i'm always adding tasty and new vegetable recipes! Happy Grilling!!!


---
Need Grills?
---
From Grilling Vegetables back to Charcoal Grills Homepage


---