How to BBQ!

"Looking for Grilling tips on the BBQ?"
Are you looking for tips on how to BBQ?

Do you know how to prepare meals right off your grill?

Here we have carefully put together some great grilling secrets. (Including Gas Grilling)

If you're new to Barbecuing, it's not really all that difficult it's much like cooking or being a chef, the more you grill the more you learn and the better you get.


---
I'm Adam, let me share what I've learnt so far!"
We all love a good Barbecue!

I know how frustrating it can be when you've put all that effort into the dinner and it comes out all wrong.

Ok so let's prepare the Grill, Let's bring out the BBQ Legend in you!
---
Let's look at what we're talking about here!

 • Links to my favourite BBQ food pages
 • My first grilling experience
 • Useful tips


---
"How to BBQ family favourites!"

Don't forget to throw in a few of your own BBQ Tips below!

---
"Now for other great tasting treats!"


---
"My First grilling experience!"

Here on this page you have all the best grilling methods, so you can prepare some fantastic grilled meals!

All the links have a step by step guide on how to BBQ each dish perfectly!

Have the confidence and desire to prepare anything you want right off your grill!!


---
"Try New Things - How To BBQ!"

A common misunderstanding about a grill is that they are only good for cooking meats.

I'm here to tell you can prepare potatoes, bread, cheese, fruit and even pizza on the grill.

Basically you can prepare your entire lunch or dinner on your grill except for the salad!

Come on...try new things! Only recently, I tried grilling sliced pineapples on my charcoal grill and man they were tasty!

I love experimenting with different foods and flavours to come up with new and exciting BBQ dishes.

Instead of baking your potatoes in the oven try wrapping them in foil and placing them in with charcoal.

Grill a few steaks and once you are done, you'll have soft potatoes and juicy steaks!


---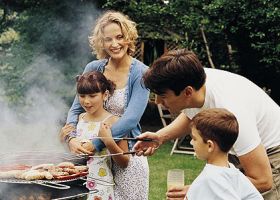 ---
"More useful How To BBQ Tips"

Avoid fat dripping through to the charcoal, it causes flare ups. flare ups burn food!)

Keep a water bottle handy incase flare ups do occur.

Avoid using a sauce with sugar, as sugar burns over the high heat of the grill.(smear that sauce on after grilling)

Always slow cook chicken and large portions of meat. Burgers and sausages can be grilled quickly.


---
"Gas barbeque Grills Tips!"
Gas Grill Cooking
Check out these great tips!! Get the most out of your grill.

Grill Thermometer
Prepare tasty perfectly cooked meals. No need to test the heat with your hand!

Barbecue Islands
Check these out...the ultimate barbecue station!!

Gas Grill Recipes
You always in need of great recipes, try these out!

Gas Grilling Techniques
Bought your new gas grill and want to know how to use it properly? Check out these great tips and techniques!

Gas Grilling Temperatures
With a thermometer and these grilling temperatures, you'll be grilling perfect meals in no time!

Gas Grilling Ribs
Get a tasty smoky flavour to your ribs. Yes...off your gas grill!

Gas Grilling Steak Tips
All the low down to getting perfectly grilled steak!

Gas Grilling Turkey
Delicious whole turkeys done perfectly! Yes...Turkey!!


---
"Workings of Gas Barbeque Grills!"


Gas grills incorporate the exact same concept as a gas stove. Gas is housed in a tank which becomes the fuel for the fire.

The gas used in the tanks can either be liquid-propane, methane or natural-gas. (either of which work great!)

A rubber hose connects the gas tank to valve regulators which then connects to steel burners.

The burner has small holes around the radius of the burner. (the holes are to let the gas through)

Valve-regulators control the flow of gas through the holes to control the heat. 
The more gas flowing through the holes the larger the flame will be. (makes sense)

For the fire to light you need a small spark, oxygen and small amount of gas.
Most gas grills have a built in igniter,which is easier than using a lighter. (one click & presto)

The igniter is normally attached to a rotating knob which uses piezo electricity to create a healthy spark to create a flame. (piezo what?)
---
- Gas Source
- Hoses (rubber)
- Valve Regulators
- Steel Burners
- Igniter
- Grill Grid
- Outer Shell
- Grill Lid
It is clear to see why a gas grill is more complex to your typical charcoal grill.

They have a few more components and moving parts. Hence being that much more expensive to a charcoal grill! Oh well...

---
"Gas Burner Variations!"
Standard Gas Grill: How to BBQ working on either Natural Gas, Butane or Liquid-Propane. Very similar to the workings of a gas stove. Incorporating either normal round burners or side burners.(easy to maintain and manage)
Infrared Burners: Latest technology in gas grilling. Infrared cooking can grill your food inhalf the time of a conventional gas grill.(oh yes!!) An infrared burner works by focusing the flame and converting it into infrared energy. Burners are quite expensive to replace.(not fun!!)
---
"Gas Barbeque Grills - Durability!"

Buying an expensive gas grill doesn't necessarily mean it will last a long time. As with charcoal grills make sure your gas grill is made well with quality materials. (get what you paying for)

Materials should either be cast iron, aluminum or stainless steel. Look at the materials and the quality of the parts. Look at the thickness of the metals and how they are bonded together. Good cleaning and maintaining will ensure your gas grill lasting a long time.(better look after it)
---
How to BBQ - "using Fuel!"
Do you want your gas grill to be running off natural gas or propane.
You can't run a natural gas grill on propane and vice versa.
Natural gas grills are generally more expensive then propane units.
In the long run natural gas units will save you money and trips to go buy propane. (makes sense!)
---
"Size of Gas Grills!"
They range from small portable units to large stationary garden features! (why not get both?)

So...choose one that suits you best!!

Similarly when choosing a charcoal grill, consider the amount of people you will normally be grilling for and the types of food you will be preparing.
(how big is your family?)



---
"Features - Gas barbeque Grills!"

Remember the more it has the more you pay for. A must have for a gas grill is it must have its own igniter. (makes life so much easier)

A big safety feature for me and it takes the hassle of using matches or a lighter.

You might want different grilling options like a smoker box, rotisserie burner or side burner?(I love extras!)

Consider if it is worth your while to pay for these extras, are you going to be using them? (extras can get expensive)

---
"Price - Gas Barbeque Grills!"

The most important option, what is the best gas grills for your price bracket?

Naturally...as you can imagine gas grills vary in price!!

Paying that bit extra for a high quality natural gas grill unit can save you money in the long run.

My best...advice is take your time when buying, post questions up on BBQ forums and see what others say! You might find a hidden gem!

If you've already got a got a gas grill what you doing reading this?

Come on...have you got a full gas in the tank? Let's get grilling!!!

Now you know how to BBQ!


---
Return To The Top

Leave - How To BBQ -
back to - Charcoal Grills - home page