Grilled Fish Recipes!!

"Grilled Fish Recipes"
Are you looking for tasty grilled fish recipes? We have recipes for shrimp, lobster, salmon and tuna steaks!

What I love most about grilling seafood is how quick it takes to cook. Just a couple of minutes on the barbecue and it's ready to eat!
Plus...seafood is so simple to season and marinate!!
On this page we've highlighted:
• Links to my Favourite BBQ Seafood Dishes
• Tips on Grilling Seafood
Seafood for us opens a world of possibilites, there are so many different fish species. All with different tastes and textures.
Seafood to consider - Lobster, Shrimp, Crayfish, Clams and Mussels...(tasty!!)
Which all turn out succulent and absolutely delicious when done right!!
Have a look at our
favourite recipes below!!
---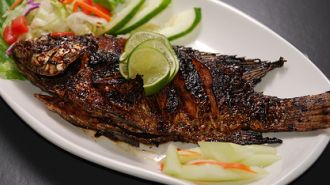 ---
Seafood Recipe Links
"Barbecue Fish Recipe!"
Grilling Seafood Tips
"BBQ Seafood Recipes!"
Let seafood thaw out overnight in the fridge rather than defrosting it in the microwave. (don't want to loose flavour)


Always lightly grease the grill grid as fish meat tends to stick easily.
Grill firm fish like tuna, salmon and trout directly on the grill.
Fish like soul and tilapia will need a grilling fish basket. As they tend to break up as you are grilling them.
When marinating fish give it a good 30 minutes in the fridge to let it soak in the flavours
Use simple ingredients to flavour, like garlic, salt, lime juice and onion powder. (don't over season!)
Pre-heat your grill to a low to medium heat.
Flip fish over only once to prevent it from breaking up. (they're not burgers!)
Another tip make sure you try all my above recipes and choose your favourite! And...be sure to check this page often!
Enjoy!!
P.S. - Check out Weber Grills take on the subject Grilling Fish!

---
Looking for tips on how to BBQ Seafood?
---
"Try a fish rub!"
---
"Some Random Barbecue Bits!"
---
From Grilled Fish Recipes back to Charcoal Grills Home page