Are you Grilling Clams
"How about Barbecue Clams?"
Are you thinking of barbecuing clams at your next barbecue? Lets look at grilling clams on the BBQ!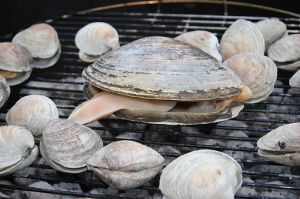 Clams are another seafood dish you can prepare on the grill. Doesn't require much preperation and
grill really quickly.
They are really easy to prepare and simple to flavour! They make for a great barbecue appetizer...
Let's prepare our clams for the grill!


---
"Preperation - Grilled Clams"
• The only preperation you do for clams is cleaning the outer shells and making a tasty sauce.
• Just for presentation wash the clams under a cold running tap. Brush away any left over dirt on the outer shells.
• Prepare a tasty sauce before you start grilling. A garlic and butter sauce works really well with clams or a cream cheese and chives sauce will do the trick. Check out the garlic cream sauce in BBQ fish sauces for a great clam sauce.
• Leave your sauce on the stove (low setting) to keep it warm.
Great...we ready to put our clams on the grill!!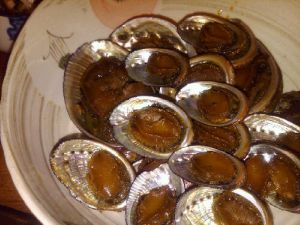 ---
"Barbecuing - Grilled Clams"
• Pre-heat your grill to a high heat.
• Place your clams on the grill, so that none are over lapping each other.
• Grilling time is 3 - 5 minutes, just depending on the grills heat.
• The clams will begin to open as they are cooking. (don't get a fright!)
• Once the clams are open really wide, they are done! (don't over cook!)
• Serve hot, straight off the grill.
Tips: To remove the 'clam meat' use a fork, for easy eating.
Serve with your warm sauce and slices of Greek bread.
(yummy! What an appetizer!)