Grilling Vegetables Tips
"Can you BBQ Veggies?"


Are you looking for grilling vegetables tips?
Do you want to prepare delicious BBQ vegetables?
We hope you enjoy these tips!!
Grilling vegetables aren't as difficult as you think.
Most vegetables are suitable for the grill as they can withstand high heat.


---
On this page we've highlighted:
• Veggies & fruit pages

• How to prepare your vegetables

• How to grill your vegetables
---
"Vegetables and Fruit Links!"


---
"Preparing your Barbecue Vegetables!"


Always start with a clean grilling surface that has been lightly oiled.
Wash the vegetables under a clod running tap and pat dry with a paper towel.
Depending on the vegetable you are preparing, you might want to cut them into smaller pieces making it easier to handle.
The pieces need to be bigger than the gaps of the grill grid to prevent them from falling through. (makes sense!)
Most BBQ marinades work well with vegetables and create a protective grilling layer. Season your barbecue vegetables with natural herbs and spices to add flavour.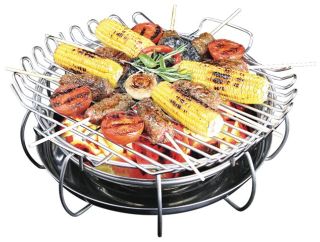 ---
Grilling Vegetables final words


Most vegetables can be grilled straight on the grill grid.


Pre-heat your grill to a medium heat and slow cook them.


Some vegetables require a high heat to sear the outside like eggplant.


You can use aluminum foil to wrap around the vegetables.


This keeps the vegetables moist and prevents them from burning.


Unfortunately using foil though prevents the veggies for getting a smokey taste.


A small amount of smoke is great for vegetables.

Always keep a close eye when barbecuing vegetables as they can end up burning really quickly.


Burnt BBQ vegetables aren't the best thing to have at your barbecue.
---
From Grilling Vegetables Tips back to Charcoal Grills home
---