Grilling Mushrooms
"Perfectly Done Off The Grill!"
Are you going to be grilling mushrooms soon? Have you tried grilled portabella mushrooms? Check this out!

Mushrooms are very forgiving on the grill, their high water content allows them to stand up to the high heat of the grill.
Mushrooms are like a lot like meat, they absorb marinades and basting sauces really well.
---
---
They come in many different sizes, smaller mushrooms should be placed on skewers as they shrink when being grilled. Larger mushrooms (portebella) are perfect to be grilled whole.
Grilled mushrooms can be served as a tasty appetizer or side dish. They add a unique flavour to any barbecue cook out.
---
"Preperation - Grilled Mushrooms!"
• Mushrooms should always be cleaned before grilling as a lot of the time they still have a layer of dirt on them.
• Either rinse them under a cold running tap or simple brush off the excess dirt.
• Give them a light coat of olive oil to prevent them from charring on the grill.
• Add flavour to your mushrooms with marinades like BBQ sauce, Jack Daniels sauce or Worcestershire sauce.
• Sprinkle over salt and garlic powder and leave mushrooms for an hour in the fridge to absorb in the flavours.
• Place your smaller mushroom (button) on a skewer or in a barbecue basket. When you grill, mushrooms will shrink and you run the risk of loosing a few through the grill grid.
• When grilling portabella mushrooms, remove the stems and grill them directly on the grill.
Great...they're ready! let's get them on the grill!
---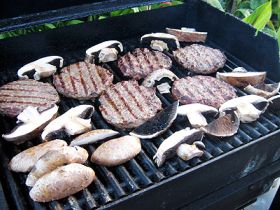 ---
"Barbecuing - Grilled Mushrooms!"
• Preheat your grill to a medium heat, lightly grease the grill grid to prevent the mushrooms from sticking.
• Mushrooms cook relatively quickly normally 5 - 10 minutes and they done.
• When grilling portabella mushrooms place on a direct heat and close the lid.
• Grill for 5 minutes and turn over carefully, then grill the otherside with the lid closed for another 5 minutes until done.
• Smaller mushrooms will be done in about 5 minutes, either when done in a basket or on a skewer.
• Once mushrooms are soft in the middle they done.
•Let them cool down for a few minutes and then serve.
Tips: With portabella mushrooms be careful when handling them as they tend to break very easily.
Enjoy!!