Homemade Charcoal Grills!
"Need a Barbecue in a Hurry?"
Here are the best ways to make homemade charcoal grills.
Make homemade grills out of everyday household objects!!
Ever wanted to barbecue but couldn't because you didnt own a grill? (I know I have been there before!)
So...here are two simple designs for you, they are easy to make with materials lying around the house!


---
"Home Oven Barbecue"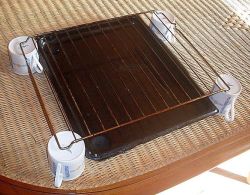 Very simple design just requires the tray and grill grid from your oven, 4 cups and either duct tape or string.
Place the tray from your oven on a safe grilling surface. A surface that isn't going to be a fire hazard. (you can use a wooden cutting board to protect the surface)
Put the four cups face down by each corner of the tray.
Cover the tray with tin foil to protect the tray from charring.
Pour a few charcoal briquettes on the tray and start up a fire as you normally would on a barbecue.
Once the coals have been burning for a few minutes, spread them out on the tray.
The oven grid becomes your grill grid, turn it perpendicular to the oven tray.
Align the four corners so they match up with the cups. Secure it down with tape or string. (get your grill on!!)
This method works great and is easy to assemble.
Use tape or string to secure the cups and grid. Be careful not to knock the grid off while you're grilling.
---
"Paint Tin BBQ - Homemade Grills"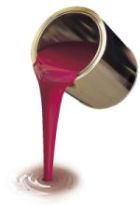 Take an empty medium sized
paint tin
, remove any advertising paper or stickers and clean inside with warm soapy water.
(make sure it's clean!)
Drill holes in the side, just a few all round to make a fire chamber. Do not make any holes in the bottom of the paint tin as this will be your cooking surface.
Place a few charcoal briquettes on a fire safe cooking surface like bricks on concrete. Light your charcoal as you normally would for any grill, check lighting a charcoal grill. Then place your paint tin face down over the charcoal.
Let the charcoal burn and heat the cooking surface of the paint tin. Grease the top with some cooking oil and you are ready to start cooking. (oh yes!)
Alternatively you can use a coffee tin if you do not have any paint tins. It must be big enough to be able to grill on. Enjoy!!

Remember...these are quick and easy designs, they are not a permanent solution. Check out
build a charcoal grill
, for a barbecue you can use over and over again!!