Outdoor Cooking Experiences to Share
"Feel free to leave a recipe for everyone to try!"
Bonfeu-bbq.com is a website dedicated to the love of outdoor cooking with stories and all kinds of crazy different ways to sizzle (as you may have noticed already).
As you know we named our site after our most loved grill the bon feu. A great all rounder.
Although we love to grill and have been for many years, we can't say we know everything.


---
"So we would love to learn more!"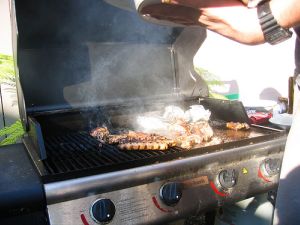 We created this page to learn more, here
you
can go wild with experiences and good times that you´ve had outdoor cooking!!!
Here below are sub categories where visitors from all over the world can leave comments about crazy times they had around their grills.
Here too you will find a place where you can submit traditional family recipes.

Browse through and become part of our barbecue community... Feel free to comment.


• Best Grills
- Advertisers are welcome to comment in these sections -
Do you have a grill to show?
Which is your Best Charcoal Grill?

Do you prefer Gas to Charcoal? What Gas grill should we talk about?
Best Gas Barbecue Grill?

Don't quit smoking completely!
Go to other BBQ Charcoal Smokers.

Right, so maybe not Charcoal or Gas, how about Electric?
Go to Electirc Grill Barbecue

Electric Smokers, yes they do exist! Give us the rundown on them.
Go to Electric Smokers



• Campfire Cooking
What others are doing outdoors around the campfire.
Go to our Campfire Cooking community
• Great Grilling Ideas
A place to share ideas. Check out what other folks recommend!
Click here to go to Great Grilling Ideas
• Holiday Appetizers
Holiday Appetizers, rise above the rest with your suggestion.
Go to Holiday Appetizers
• Thanksgiving Appetizers
Do you know if different States in America have different traditions?
Go to Thanksgiving Appetizers
---