Holiday Appetizers
"Fast and Easy Appetizers!"
Holiday Appetizers
It is holiday time and you need tasty holiday BBQ appetizers! Having a BBQ and need a few good appetizers? Try these out!
Click Here if you wish to recommend something to us or if you wish to see what others have suggested.
If we like your recommendation we will ask you to have it displayed here.


---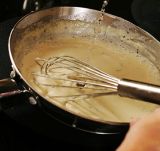 Tasty Christmas Mushroom Dip
Ingredients
- 1 Can of button mushrooms (minced)
- 1 Tablespoon of onion powder
- 3 Tablespoons of sour cream
- 1 Teaspoon of Tabasco sauce
- 1 Tablespoon of butter
- Half a cup of milk
- Half a cup of cream cheese
- 2 Tablespoons of flour
Method
Cook mushrooms in a pan with butter for 3 minutes, until they start turning brown. Add the rest of the ingredients and turn the heat down to a low setting.
Cook for a further 10 mintues. If the mixture is runny add more flour, if the mixture is thick add more milk.
Get the consistency you desire.
Serve with vegetable dippers or potato chips.


---
Buffalo Thanks Giving Wings
Ingredients
- 3 kg Chicken wings
- 2 Tablespoons of white vinegar
- Half a cup of hot sauce
- 2 Tablespoons of Worcestershire sauce
- Salt & pepper
Method
Heat oil in a deep fryer to 370 degrees. Add the chicken wings, salt and pepper. Cook until crispy and place on a paper towel to drain.
In a sauce pan melt butter, then add vinegar, hot sauce and Worcestershire. Bring mixture to a simmer and pour over chicken wings.
Serve warm with a blue cheese dip.


---
BBQ Franks - Good Appetizers
Ingredients
- 1 Packet off cocktail franks
- Half a cup of chili sauce
- 1 Teaspoon of dry mustard
- Half a cup of pineapple juice
- 2 Tablespoons of lemon juice
Method
In a saucepan combine chili sauce, mustard, pineapple and lemon juice. Bring to a simmer and add the cocktail franks.
Simmer for a further 15 minutes and strain out the franks.
Serve the franks warm on a platter with a ketchup dip.