Looking for Recipes for the Grill
"Steak, Fish what's your Dish?"
Are you looking for a few recipes for the grill? Feel free to try these!
Have you got a tasty BBQ recipe? YOUR grilling recipes!



---
"Grilled BBQ Peaches!"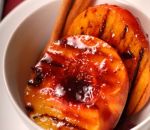 Ingredients
- 4 medium peaches
- half cup brown sugar
- half cup of apple cider vinegar
- 1 lemon
- 1 teaspoon of ground black pepper
Method
Cut the peaches in half and remove pips. Slice lemon in half and drizzle over lemon juice over the peaches. Cover with plastic in leave in the fridge.
In a small saucepan combine vinegar, sugar and black pepper. Mix thoroughly and let simmer for ten minutes.
Place peaches cut side down on a hot lightly greased grill. Cook for 2 minutes and turn over.
Coat the cut side with the sauce and grill for a further 3 minutes until peaches are soft. (oh yes, tasty fruit right off your grill!)



---
"Bacon Corn On The Cob"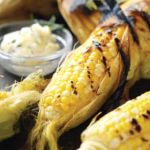 Ingredients
- 8 ears corn
- half cup of butter
- 3 tablespoons of chopped chives
- packet of cooked crumbled bacon
Method
Pull back the husks of the corn and remove the silk. Place corn in cold water for 10 minutes. Wait to dry then coat the corn with butter and place the husks back.
Pre-heat the grill to a medium heat and cook the corn for 20 minutes until soft. Serve with the bacon and chives.



---
"Grilled Leg of Lamb"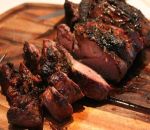 Ingredients
- 1 leg of lamb (4 kg)
- 2 cups of dry white wine
- 2 lemons
- 1 tablespoon of thyme
- 2 tablespoons of cinnamon
- 1 tablespoon of rosemary
Method
Slice the lemons thinly and place in a mixing bowl. Add the wine, thyme, cinnamon and rosemary in the mixing bowl.
Cover the mixing bowl with plastic and place in the fridge leaving it for a day.
Using in-direct grilling technique, place the leg of the lamb on a medium heat grill. Cook for approximately an hour and a half and keep coating with the sauce mixture.
Leave for 10 minutes to stand and settle before slicing and serving. Enjoy!!

Have you got a tasty BBQ recipe? YOUR grilling recipes!

---