Spicy Shrimp Appetizer's
"Are you looking for Shimp Snacks"
Some great spicy shrimp appetizer recipes to get your hands on. A shrimp appetizer is a great way to kick off your barbecue Sunday!!



---
"Spicy Garlic Shrimp"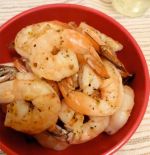 Ingredients
- 12 shrimp (junbo sized)
- 2 Teaspoons of olive oil
- 4 garlic cloves (minced)
- 1 Tablespoon of chili powder
- 1 Teaspoon of red pepper flakes
- 1 Tablespoon of chopped parsley
- 1 Lemon
Method
Start by deveining and peeling the shrimp. Heat a large pan to a medium heat add the shrimp, garlic and olive oil.
Spinkle over chili and pepper flakes.
Cook for about 3 minutes until the shrimp turns pink. Slice the lemon in half and squeeze over the lemon juice.
Remove the shrimp and serve on a tray, leaving the garlic cloves in the pan.
Sprinkle over the parsley and serve.



---
"Coconut & Beer Shrimp"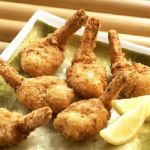 Ingredients
- 15 Shrimp (Large, deveined & peeled)
- 6 Ounces beer
- 6 Ounces coconut milk
- 1 Cup milk
- 1 Teaspoon of sugar
- 1 Teaspoon of baking powder
Method
Combine beer, milk, coconut milk, sugar and baking powder. Mix ingredients together to create a batter.
Dip all the shrimp in batter and let rest for 10 minutes. Pre-heat pan with olive olive and fry until golden brown.
Serve with a sprinkle of salt and fresh lemon juice.



---
"Garlic Butter Shrimp"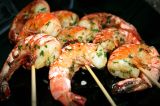 Ingredients
- 20 shrimp (large & deveined)
- 1 tablespoon of garlic powder
- 1 tablespoon of onion powder
- 2 teaspoons of salt
- 3 tablespoons of butter
Method
Start by melting the butter in a frying pan, place the shrimp in. Sprinkly over the garlic, onion and salt and mix ingredients. Fry the shrimp until golden brown and crispy.
Once done let the shrimp cool for 10 minutes. Stab a toothpick into each shrimp and serve.
The toothpicks make it easy to eat! Enjoy