Smoker Recipes - BBQ Smoker Recipe
"Wood or Charcoal?"
Burn wood chips to create great smoke.
If you are looking for delicious Smoker Recipes, feel free to try these out!

These recipes come highly recommended, they work so well with a smoker BBQ!
Light up the smoker and let's get smoking!



---
"Smoked Corn on the Cob"
Ingredients
- 4 ears corn on the cob
- 2 tablespoon of honey
- 1 tablespoon of lemon juice
- 1 tablespoon of olive oil
- pinch of salt & pepper
Method
Peel off the husks from the corn but don't remove them completely. Simple peel them all the way down but don't rip the bottom off.
Remove any silk from under the cobs. (fluffy stuff, looks like hair)
Bring up the ends of the husks to cover up the corn again. (easy enough!)
Place the corn in a bowl of cold water for an hour. (softens them up!)
In a mixing bowl combine honey, lemon juice and olive oil. Mix the ingredients together. Then sprinkle over a little salt and pepper.
Pat dry the corn cobs and pull down the husks again. (don't remove!)
Smear a thin layer of the mixture on the corn and place the husks back into place.
Place husks in the smoker and smoke at 220 degrees for an hour. Serve straight away with butter. (hmmm...hmmm!)



---
"Pork Ribs Smoker Recipes"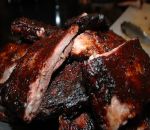 Ingredients
- 2 racks of baby back ribs
- quarter cup of honey mustard
- 2 tablespoons of chilli powder
- 3 tablespoons of paprika (sweet)
- 3 tablespoons of brown sugar
- 1 tablespoon of salt
Method
Start Rinsing the ribs under a cold tap and then pat dry with a paper towel.
Remove the silver membrane from the back of the ribs with a sharp knife. Look at cooking barbeque pork ribs for instructions on how to remove the membrane.
In a mixing bowl combine the above ingredients and mix thoroughly.
Then rub over the racks of ribs, try to completely cover all the meat. Place in the refrigerator for an hour before grilling.
Heat your smoker up to 200 degrees and place ribs in the smoker.
Smoke for two hours, then remove ribs and wrap them in aluminum foil. (keeps it moist)
Place back on the smoker and smoke for another two hours! Let ribs sit for ten to fifteen minutes before cutting them up and serving.
Enjoy!!



---
"Apple Smoked Pork"

Ingredients
- 2 large pork tenderloins
- 1 cup apple juice
- 2 tablespoons of apple puree
- cup butter milk
- tablespoon of vinegar
Method
In a zip lock bag, pour in the butter milk and place in the tenerloins. Leave in the fridge overnight.
In a mixing bowl add apple puree, apple juice and vinegar.
Soak tenderloins in the mixture for ten minutes.
Light up the smoker and get the temperature to 220 degrees. Smoke tenderloins for an hour, just before you take them off pour over any left over apple juice.
Once done leave the tenderloins to sit for ten minutes before serving.
(absolutely delicious!)
---